Professor DR. Daddy Ruhiyat, Head of the Provincial Climate Change Council of East Kalimantan, Indonesia and GCF Task Force delegate for the province, participated in an exposé on Green Development in East Kalimantan on June 8, 2022.
In 2019, the President of Indonesia announced that East Kalimantan will be the location of the New National Capital.  However, considering that major parts of the location for the new capital are forested areas, concerns were raised on forest and environmental degradation that may happened because of the construction of the new capital. This has drawn opposition and created many dialogues on how the new capital should be established.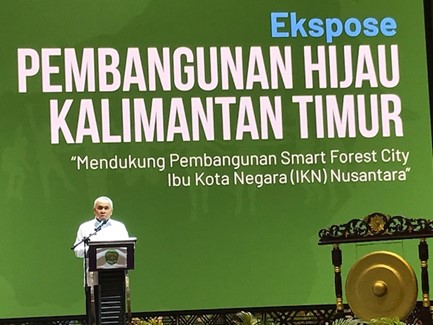 Although the new capital's authority will be in the hands of the central government, areas surrounding it are under the authority of the East Kalimantan provincial government. Thus, on 8th June 2022, the East Kalimantan province organized a national dialogue on East Kalimantan's Green Development to Support Establishment of a Forest City for the New Nation Capital. The dialogue, opened by East Kalimantan Governor Dr. Isran Noor and attended by, among others, the Governor of Jambi and representatives from the Ministry of Environment and Forestry, the National Planning and Development Agency, other provinces including GCF Task Force member provinces, districts and municipalities in East Kalimantan, and NGOs.
The dialogue included a discussion of challenges related to environmental conservation in and around the new capital, and how the East Kalimantan Green Development Program (called "Kaltim Green") may assist in realizing the new capital's forest smart city vision. Kaltim Green consists of two main programs: (1) the Forest Carbon Partnership Facility (FCPF) and (2) Green Growth Compact (GGC).
For more information on Kaltim Green, please check the website of East Kalimantan's Regional Climate Change Board at https://ddpi.kaltimprov.go.id/.