The GCF Task Force is led by 39 Governors and 78 delegates, with support from Regional Coordinators in Brazil, Peru, Mexico and Indonesia and a global Secretariat based at the University of California, Los Angeles and the University of Colorado.
Member States & Provinces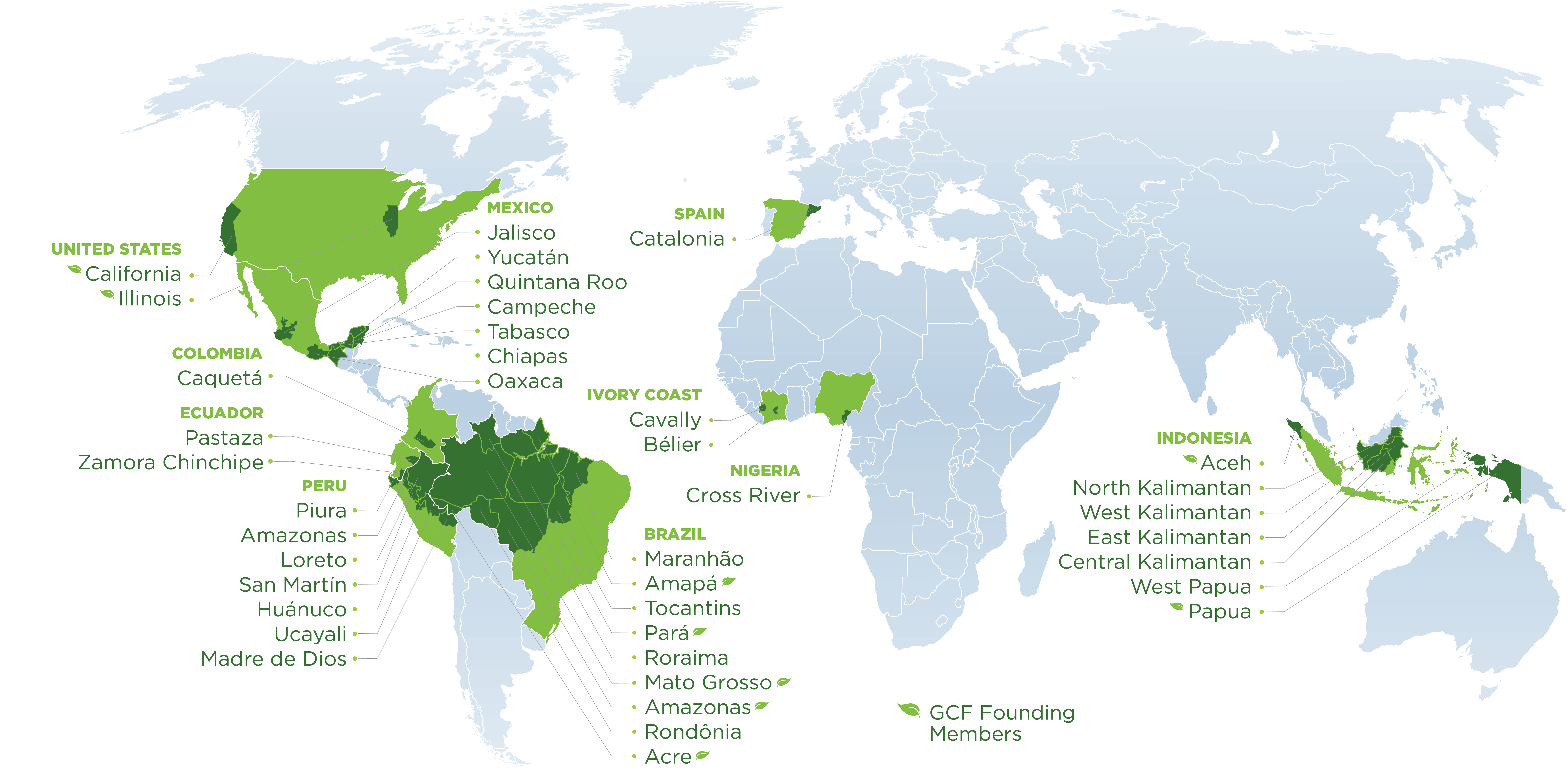 The Executive Committee is an advisory committee that works closely with the Regional Coordination and Secretariat on strategic initiatives, partnerships, fundraising and governance of the GCF Task Force. Executive Committee members include two delegates from each of the major GCF Task Force regions (Brazil, Peru, Mexico, and Indonesia), two delegates from California, and one delegate representing at-large GCF Task Force members.
Executive Committee members are official GCF Task Force delegates appointed to serve a two-year term by a vote of members in each respective region. The Executive Committee appoints a rotating Chair from the region serving as the Chair of the GCF Task Force Annual Meeting.
Regional Coordinators support clusters of member states and provinces in Brazil, Peru, Mexico, and Indonesia. Regional Coordinators are housed within local NGOs and work directly with our members to identify needs, develop long-term strategic plans, and implement annual work plans.
The GCF Task Force Secretariat supports and facilitates the work occurring within our member states and provinces. The Secretariat provides administrative oversight, connects members with partnership opportunities and assists in carrying out their strategic vision, and leads fundraising efforts for the GCF Task Force.
The Secretariat is housed within the University of Colorado's School of Law and supported through the Laboratory for Energy and Environmental Policy innovation. The University of Colorado provides opportunities for connection and collaboration within its multiple environmental and policy departments. Through the Secretariat, GCF Task Force members engage with students and professors from the Environmental Studies and the Masters of the Environment programs, the Sustainability Innovation Lab at Colorado, the Leeds School of Business, the Renewable and Sustainability Energy Institute, and the Mortenson Center in Global Engineering. 
GOVERNORS' CLIMATE & FORESTS TASK FORCE