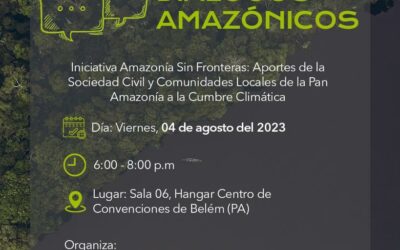 The GCF Task Force is honored to participate in the Amazon Dialogues that are launching today in Belem, Brazil in the lead up to the Presidential Amazon Summit. Today, August 4, from 18h00 to 20h00, with the support of SDSN Amazonia, GCF Task Force leaders will join...
read more
"The indigenous brothers are those who best preserve the forests and the water…. We must identify ways for greater involvement of these indigenous brothers in the conservation and development of forests."
–Governor Oscar Altamirano Quispe of Amazonas, Peru
Agricultural Supply Chains
Coalition for Sustainable Production
The Coalition was launched in 2017 during the Amazon Expo in San Martín, Peru under the name "Public-Private Coalition." GCF Task Force members have supported the design and creation process since its inception. In 2019, the Public-Private Coalition adopted the name "Coalition for Sustainable Production," becoming a multi-stakeholder space that seeks to promote the development of sustainable jurisdictions and production chains free from deforestation in Peru. In 2020, the Coalition began an active institutional life, has a roadmap, its governance bodies and a sector action plan (in coffee, cocoa, palm, Amazonian fruits) through the jurisdictional sustainability initiative. Its main objectives are based on multi-stakeholder advocacy to address systemic problems in value chains and promoting a favorable framework for the development of sustainable businesses.
Regional Incentive Program
The regional incentives program seeks to empower the member governments of the GCF Task Force to implement public instruments that promote and develop sustainable business models. Its purpose is to develop 4 instruments in subnational jurisdictions: jurisdictional brands for committed actors, development of access to financing through regional funds, promotion of productive public-private alliances, and promotion and development of differentiated productive offerings.
Jurisdictional Sustainability Initiative (in partnership with TFA)
The alliance between the Tropical Forest Alliance and the GCF Task Force in Peru seeks to develop an intervention model to connect the private sector and value chains within the framework of low-emission rural development strategies. Processes will be facilitated so that the prioritized territorial units carry out the following actions: i) design a shared vision and action plan, with multi-stakeholder participation, based on jurisdictional strategies, ii) solutions are designed and dialogue is promoted to the implementation of commitments; iii) a public-private governance is installed and iv) a joint performance monitoring tool is in place. Likewise, this will be complemented in a transversal way in aspects such as the training of decision makers, systematization of a knowledge package and a national and global communication campaign. In a first stage, two intervention areas have been prioritized in Alto Huallaga, San Martin and Padre Abad, Ucayali.
GOVERNORS' CLIMATE & FORESTS TASK FORCE