On July 13, 2023, the Global Landscapes Forum (GLF) organized a digital forum on leveraging finance for nature, investing in equitable futures in Latin American and the Caribbean. The event was billed as an opportunity to "support the stewardship of local communities and enterprises in Latin America and the Caribbean through sustainable finance" and brought together "community representatives, business leaders, financiers, policymakers and scientists to discuss how we can raise and equitably distribute funds for sustainable land use at the grassroots level."
The GCF Task Force's director in Peru, Fabiola Muñoz Dodero, led the final session, which focused on finance for indigenous peoples. She highlighted the fact that this financing is severely lacking and that we all have an imperative to "look to those opportunities for climate funding to reach the key stakeholders in forest conservation throughout the world, which are indigenous peoples." The panel included experts Aldo Soto (Amazonia Impact Ventures), Mariá Pía Hernández Palacios (Territorial Mesoamerican Fund), Juan Carlos Jintiach (Global Alliance of Territorial Communities), and Mareike Hussels (Triodos Bank).
Working together to find these opportunities and push for equitable funding that reaches Indigenous organizations and territories is a key tenant of the GCF Task Force Guiding Principles for Collaboration and Partnership between Subnational Governments, Indigenous Peoples and Local Communities and our work within the Global and Regional Committees for Indigenous Peoples and Local Communities, as well as within the GCF Task Force's Manaus Action Plan for a New Forest Economy.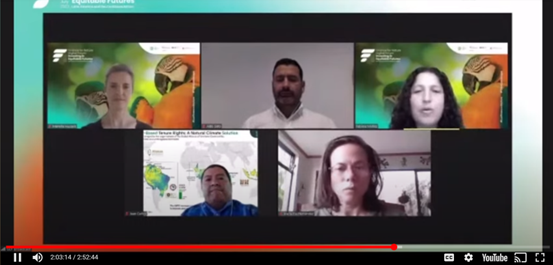 For more on this excellent GLF event, see the official recording and news release.