Last month, the GCF Task Force participated in the 2022 Oslo Tropical Forest Forum. As explained by the Norwegian Development Cooperation Agency, the "Oslo Tropical Forest Forum is a key global conference that gathers policy-makers and practitioners from civil society, the private sector, and public sector organizations working at global, national, and sub-national levels to reduce and reverse tropical deforestation. The conference is hosted by Norad, the Norwegian Development Cooperation Agency, on behalf of the Norwegian International Climate and Forest Initiative (NICFI)."
This year's event relaunched a wide-ranging dialogue that had not convened in person since prior to the global Covid-19 pandemic. GCF Task Force delegates, Secretariat staff, Regional Coordinators, and partners participated in many of the official panels and in numerous conversations seeking to build additional support and collaboration. An official agenda is available here.  Key overall themes related to market-based finance for jurisdiction scale programs to reduce emissions from deforestation and forest degradation, opportunities for people and forests in Central Africa, forest and land use monitoring, opportunities to scale up indigenous peoples and local communities land tenure and forest management, and assessing legislative programs for reducing deforestation linked to commodity trade.
GCF Task Force Project Lead William Boyd moderated an important (and timely!) panel focused on "Aligning expectations among buyers, sellers, donors, and other stakeholders" in existing and emerging carbon markets. This panel also featured GCF Task Force delegates Eduardo Taveira (Secretary of the Environment of the State of Amazonas, Brazil) and Francisca Arara (President of the Regional Indigenous Peoples and Local Communities Committee of Brazil), along with representatives of the UK Government, a national forestry fund, and voluntary carbon market experts.
GCF Task Force Project Director Jason Gray moderated a panel titled "Subnational Actions and Opportunities," which focused on jurisdictional REDD+ and financing via carbon markets. This panel featured expert contributions from GCF Task Force delegates Alejandra Blanco (General Director of the Environmental Fund of Jalisco) and Camille Bemerguy (Director of Meteorology, Hydrology, and Climate Change for Pará, Brazil), Fabiola Muñoz (GCF Task Force Regional Lead for Peru), Harol Rincón Ipuchima (GCF Task Force Global Indigenous Peoples & Local Communities Committee leader and representative of COICA), and André Guimarães, Executive Director, IPAM.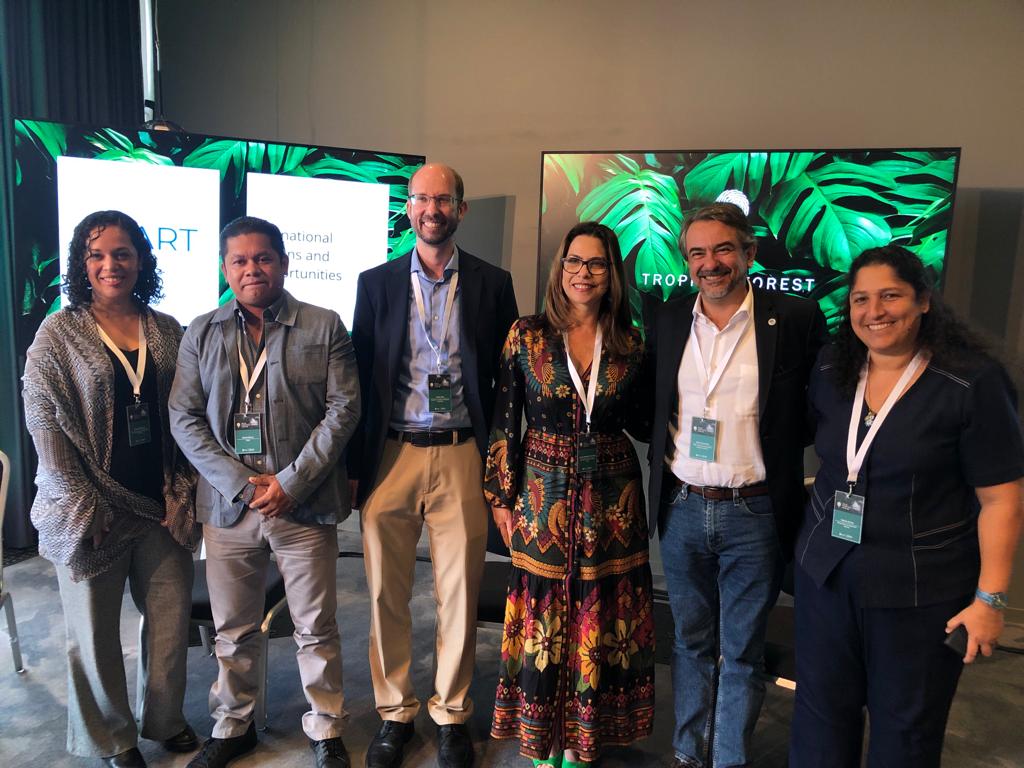 Panel on Subnational Actions and Opportunities (Photo Credit: Silvia Llamas)
Regional Leads for Indonesia (Syahrina Anggraini), Mexico (Silvia Llamas), and Brazil (Carlos Aragon) also participated in all of these discussions, as well as supporting delegates in engaging with numerous bilateral and multilateral meetings and coordinating an excellent session of the Global Committee with potential philanthropic partners.
Norad has posted videos of the plenary sessions here.
Project Director Jason Gray with ABOGUE NDONG Marie-Claire, civil society representative from Gabon and Dr. NGWA EDIELLE Jackson, Head of Local Development Planning Division chez Ministry of Decentralization and Local Development of Cameroon
The GCF Task Force Secretariat greatly appreciates being invited to participate in this important event and to connect with old and new friends.  We are especially grateful for Norad's ongoing support for our many activities across the 39 member jurisdictions of the GCF Task Force network.