On Tuesday, February 7, 2023, GCF Task Force Governors, Environment Secretaries, and delegates convened for our annual Assembly – a closed business meeting in the lead up to the 13th Annual Meeting of the Task Force in Merida, Yucatan. Over the course of the day, delegates and the GCF Task Force Secretariat discussed the status of existing programs, grants, membership, and governance policies updates.
This session offers an incredible space for dialogue across the members – to hear from each other on what is underway in their jurisdictions to reduce deforestation, pursue forest-friendly development strategies, and incentivize a more sustainable future. Key topics included bioeconomy, pursuit of additional financing opportunities, the state-of-play of carbon markets, and how each region is moving forward with implementing the Manaus Action Plan for a New Forest Economy.
The session also provided a stock-take on activities at the Secretariat, which is now housed out of the University of California Los Angeles, in partnership with the University of Colorado Boulder, and an opportunity for the full assembly to receive an update from and discuss with the Global Committee for Indigenous Peoples and Local Communities.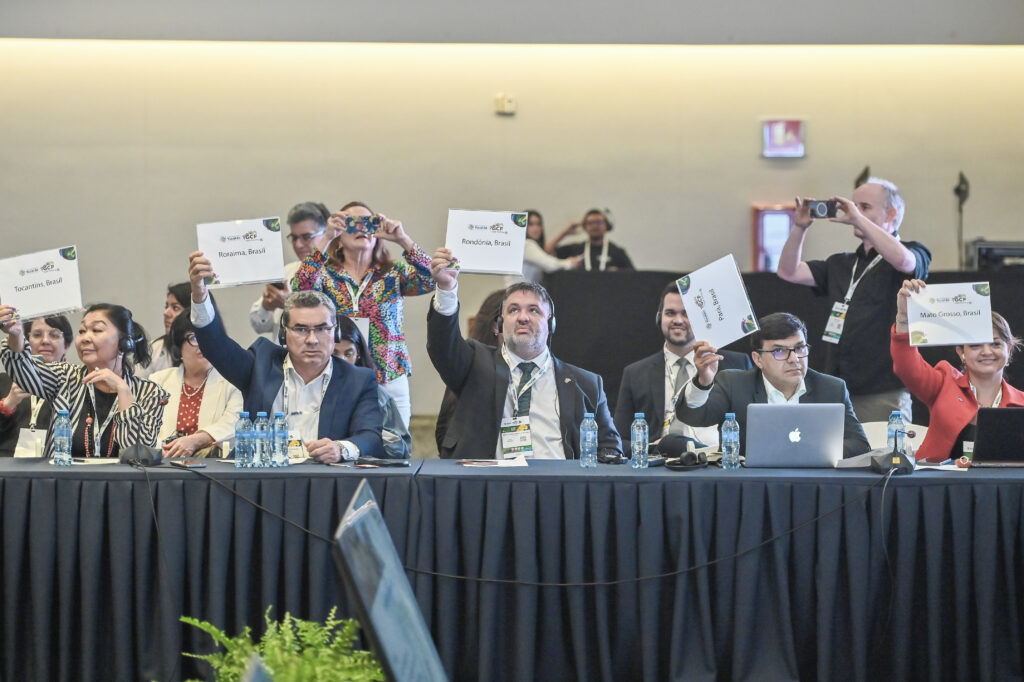 Key decision points for the delegates included:
Approval of 4 New Member Jurisdictions: Pando, Santa Cruz, and Tarija (Bolivia) and Morona Santiago (Ecuador)
After brief remarks from each of the candidate jurisdictions, who have spent the last year (or more) developing and demonstrating their commitment to the principles and objectives of the GCF Task Force, the members voted by unanimous consensus to welcome these four new members. This decision increases the total GCF Task Force to 43 member jurisdictions across 11 countries!
Approval of Manabi, Ecuador as a new observer jurisdiction
Similarly, the members voted to welcome Manabi as a new observer jurisdiction. This vote will allow Manabi to observe how the GCF Task Force functions, and then work to demonstrate it too can meet the membership criteria for a future vote on full membership.
The meeting also provided an opportunity to begin discussions on the location of the GCF Task Force meeting in 2024, although the members did not complete this vote during the meeting on Tuesday.
At the end of the meeting, after holding a parallel Governors-level discussion, Governor Mauricio Vila Dosal of Yucatan, along with more than a dozen governors and vice governors from throughout the network, joined to hear how the day had proceeded. Governor Vila welcomed the delegates and Global Committee to Merida, and then led a historic signing of the GCF Task Force Gender Policy: Women for Forests and Climate. The Gender Policy will be launched publicly in the coming days.