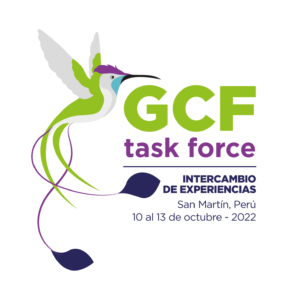 Under the leadership of Governor Pedro Bogarin Vargas, the Government of San Martin, Peru and the GCF Task Force will host an Intercambio de Experiencias in San Martin from October 10-13, 2022. This important technical exchange will promote the sharing of experiences from within and across the GCF Task Force network of subnational governments, with a particular focus on the 7 Peruvian members of the network.
Throughout the exchange, we will
Go to the field to observe and discuss relevant practices to reduce deforestation and promote a new forest economy, including

Initiatives with standing forests (ecotourism, sustainable forest management, etc.)
Impacts on drivers of deforestation (coffee, cocoa, etc.)
Inclusion and gender approaches (small producers, women, etc.)
Innovation and technology (solar energy, technical irrigation, satellite monitoring, etc.)
Empowerment and scalability (social organizations, cooperatives, etc.). We will present important international experiences to reduce deforestation and promote a new forest economy considering objective criteria such as:

Impact on the enhancement of standing forests
Impact on reducing deforestation
Inclusion and gender approaches
Innovation and technology
Empowerment and scalability
Organize around the 4 pillars of the Manaus Action Plan for a New Forest Economy that was endorsed by the GCF Task Force at our Annual Meeting in Manaus, Brazil in March 2022:

People and Communities
Knowledge, technology and innovation
Finance, investment and private sector
Government and public policies
Hold a "High Level Segment" with the participation of Governors and other authorities regarding commitments to the climate agenda and to promoting jurisdiction-scale efforts to reduce deforestation and low emissions rural development strategies
A provisional program agenda is available here and we will update this webpage with additional detail as available. This technical exchange will be by invitation only.