Press Release
Merida, Yucatan, January 17, 2023 – It was announced that the 13th Annual Meeting of the Governors' Climate and Forests (GCF) Task Force, currently chaired by Governor Mauricio Vila Dosal, will be held in parallel with the first International Biosphera Summit, from February 7-10, 2023, at the Yucatan Siglo XXI Convention Center.
At a press conference held at the Villa Mercedes Hotel in Merida, with representatives of companies, institutions, organizations and local and national media, the Yucatan government announced that the 39 member states and provinces of the GCF Task Force, covering more than a third of the world's tropical forests, will be attending the event to develop and implement innovative programs or best practices.
The protection of these ecosystems, the reduction of carbon emissions caused by deforestation and forest degradation, as well as the promotion of community development, are the main objectives of the GFC Task Force's call, according to the presentation, which was led by the head of the local Secretariat for Sustainable Development (SDS), Sayda Rodríguez Gómez.
Also, under the slogan "The health of the planet, the health of all(s)", the first edition of Biosphera seeks to promote the "one health" approach and generate collaborative efforts among multiple disciplines, operating locally, nationally and globally, to prevent and propose solutions to achieve optimal conditions for people and the environment.
Manuel Redondo, president of FIRA Barcelona Mexico and Pronus; Silvia Llamas Prado, coordinator of the GCF Task Force in Mexico, and Melissa Rojas, head of Biosphera, offered details about the double convening, which will bring together more than 80 speakers, 150 organizations and the representation of 50 governments from various countries around the world.
They stressed that the invitation is open to authorities, universities, research centers, media, companies, civil society and regional or global agendas, from different fields, who are willing to promote and exchange knowledge or experiences on this topic.
Six relevant topics will be addressed to contribute to solving the present needs of ecosystems: Indigenous populations and communities; Governance and sustainable public policies; Integrative health; Conservation; Economy of the future or green economy; and Knowledge, technology and innovation for conservation and restoration.
Finally, they stressed the importance of joining forces and called on the public and private sectors to register at www.biosphera.bio and to follow the conversation through the official profiles on Instagram, @biosphera.cumbre, and Twitter, @biospheracumbre.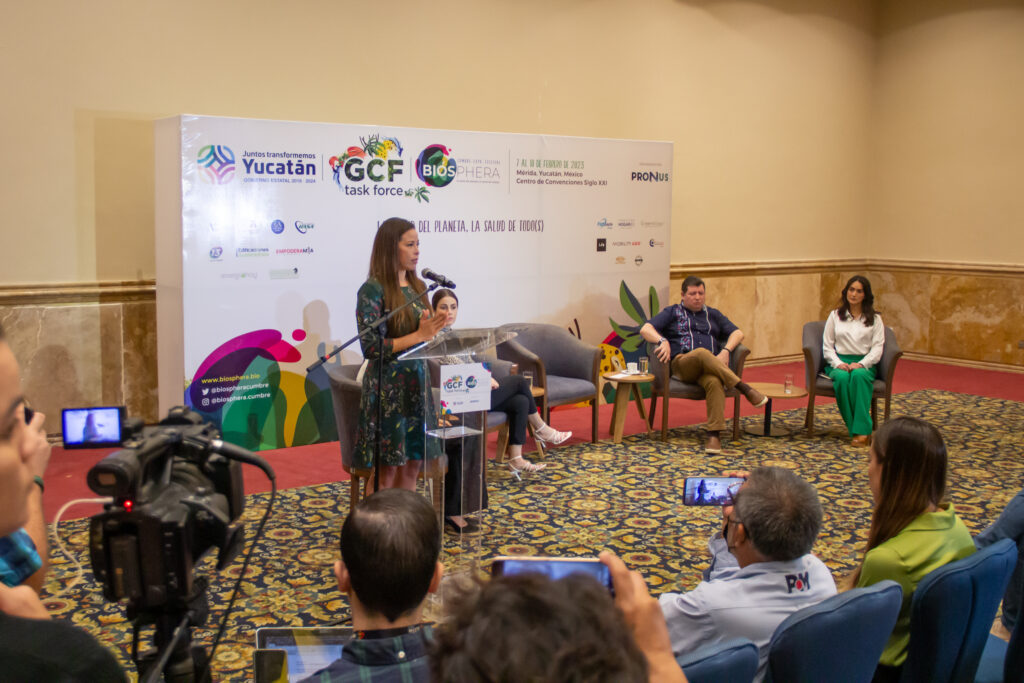 Español
BOLETIN
Yucatán será sede de importantes encuentros internacionales sobre medio ambiente
Llegarán tanto la primera Cumbre Biosphera como la 13 Reunión Anual del Grupo de Trabajo de Gobernadores sobre Clima y Bosques.
Mérida, Yucatán, 17 de enero de 2023. – Se anunció que la 13 Reunión Anual del Governors' Climate and Forests (GCF) Task Force (en español, Grupo de Trabajo de Gobernadores sobre Clima y Bosques), que actualmente preside Mauricio Vila Dosal, se realizará en paralelo con la primera Cumbre Internacional Biosphera, del 7 al 10 de febrero próximos, en el Centro de Convenciones "Yucatán Siglo XXI".
En rueda de prensa, que se llevó a cabo en el Hotel Villa Mercedes de Mérida, con representantes de empresas, instituciones, organizaciones y medios de comunicación tanto locales como nacionales, se informó que llegarán 39 Estados miembros y provincias, que abarcan más de un tercio de los bosques tropicales del mundo, para desarrollar e implementar programas innovadores o mejores prácticas.
La protección de estos ecosistemas, reducción de emisiones de carbono causadas por la deforestación y degradación de la masa forestal, así como el fomento al desarrollo de las comunidades, son los objetivos principales de la convocatoria del GFC Task Force, se detalló en la presentación, que encabezó la titular de la Secretaría de Desarrollo Sustentable (SDS) local, Sayda Rodríguez Gómez.
Asimismo, bajo el lema "La salud del planeta, la salud de todo(s)", la primera edición de Biosphera busca promover el enfoque "one health (una sola salud)" y generar esfuerzos de colaboración entre múltiples disciplinas, que operen local, nacional y globalmente, para prevenir y proponer soluciones que permitan lograr condiciones óptima para las personas y el medio ambiente.
Manuel Redondo, presidente de FIRA Barcelona México y Pronus; Silvia Llamas Prado, coordinadora del GCF Task Force en la República, y Melissa Rojas, titular de Biosphera, ofrecieron detalles sobre la doble convocatoria, que juntará a más de 80 conferencistas, 150 organizaciones y la representación de 50 gobiernos, provenientes de diversos países del orbe.
Resaltaron que la invitación está abierta a autoridades, universidades, centros de investigación, medios de comunicación, compañías, sociedad civil y agendas regionales o mundiales, de diferentes rubros, que estén dispuestos a promover e intercambiar conocimientos o experiencias respecto de este tópico.
Se abordará seis temáticas relevantes para contribuir con resolver las presentes necesidades de los ecosistemas: Poblaciones y comunidades indígenas; Gobernanza y políticas públicas sustentables; Salud integrativa; Conservación; Economía del futuro o verde, y Conocimiento, tecnología e innovación, para la conservación y la restauración.
Finalmente, expusieron la importancia de sumar voluntades, por lo que extendieron el llamado a los sectores público y privado, a registrarse en la página www.biosphera.bio y estar pendientes de la conversación, a través de los perfiles oficiales en Instagram, @biosphera.cumbre, y Twitter, @biospheracumbre.