Press Release
Governors' Climate and Forests Task Force Launches Key Partnerships to Support Forest Protection Actions, Attract Investment into Subnational Jurisdictions and Communities, and Improve Impact Assessment Capacity
February 8, 2023
MERIDA, YUCATAN – Under the leadership of Governor Mauricio Vila Dosal of the State of Yucatan, the 13th Annual Meeting of the Governors' Climate and Forests Task Force (GCF Task Force) opened today. In conjunction with this meeting, the Government of Yucatan also launched its first Biosphera Summit. In his welcoming remarks, Governor Vila stated that Yucatan is "very pleased to be the host of the GCF Task Force and to inaugurate the first Biosphera Summit, where we will be discussing solutions to reduce emissions from deforestation… and if we work together, we will have a clean and healthy environment."
Dr. William Boyd, Project Lead of the GCF Task Force and professor at the University of California Los Angeles, emphasized that "the great promise of the GCF Task Force is anchored in its fundamental commitment to policy innovation – experimentation – and problem solving – as the key to reducing deforestation and promoting sustainable land use." He urged participants to "join with [GCF] Governors – and with the people working in their governments – and with their partners in indigenous and local communities – in civil society and the private sector – as they build a New Forest Economy."
During the opening day, governors, environment secretaries, Indigenous and community leaders, academic institutions, donors and conservation organizations convened on stage to launch a series of announcements and commitments that will bolster efforts underway in GCF Task Force jurisdictions to reduce deforestation and tropical greenhouse gas emissions while advancing low-carbon economies and sustainable, forest-based development.
These announcements align with implementation of the four pillars of the Manaus Action Plan, a framework for achieving significant reductions in deforestation by 2030, which was adopted by the GCF Task Force in 2022. These pillars of action are Governance and Public Policy; People and Communities; Knowledge, Innovation, and Technology; and Finance, Investment, and the Private Sector.
The first two announcements focus on increasing access to data and data tools, as well as the development of applied research agendas to support state and provincial climate programs and provide consistent and transparent ways to assess our impacts.
The GCF Task Force created an innovative

new partnership

with CTrees, a leading nonprofit that delivers science-driven data on forest carbon to governments, companies, and organizations seeking to reduce carbon emissions from deforestation and degradation and to restore forests. The GCF Task Force and CTrees will work together to promote forest carbon accounting, land-use monitoring, and governance tools for jurisdictions using CTrees' state-of-the-art satellite data products and science-based techniques. The partnership will include exchange of data to improve jurisdictional strategies to measure forest carbon, reduce emissions, and access climate finance. This joint effort will also include an in-depth training session for remote sensing technicians from GCF Task Force member hosted at UCLA this summer.
CTrees CEO, Dr. Sassan Saatchi, remarked that: "Despite universal recognition of the importance of jurisdictions for protecting tropical forests, lack of accurate data on carbon emissions and removals is hindering policy innovation and large-scale investments. Our goal with this partnership is to learn from member states' experiences and bring CTrees' cutting-edge science to improve their jurisdictional strategies. The GCF Task Force member states' focus on technology alongside governance, community rights, and finance, make them an ideal partner for us to develop innovative data tools that support measurable reductions in emissions."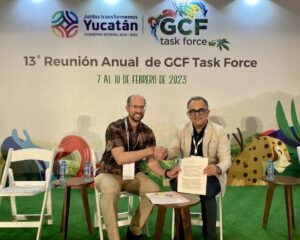 The GCF Task Force and Alianza MX have

committed

to work together to help train the next generation of leaders in Mexico and California on sustainability, climate change, and natural resources management. Alianza MX is a systemwide initiative of the University of California (UC) that seeks to support the UC's role as Mexico's primary institutional research and scientific partner. This partnership will work to foster student exchanges between UC students and universities in Mexico, including through internships on climate, forest, and governance topics; to develop a longer-term research agenda that build on the needs of GCF Task Force member states in Mexico; and to support civil servants and partners through universities in Mexico and the University of California system on applied problem solving to reduce emissions, improve forest and other land-management governance, and create sustainable economic and environmental benefits for communities.
"The University of California – Alianza MX is proud to announce the establishment of a unique partnership with the Governor's Climate and Forests Task Force," said Dr. Isabel Studer, Director of Alianza MX. "This partnership recognizes the critical role that subnational actors play in addressing the climate emergency and seeks to leverage our exchange programs with Mexico to train the next generation of binational climate leaders. Through our binational network of universities, we will facilitate student exchange and action-research to help solve complex on-the-ground problems. We are confident that this partnership will be beneficial to all involved and help to ensure a sustainable future."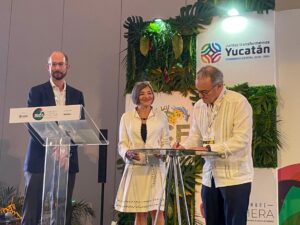 Today's announcements also include the first-of-its-kind partnership to foster dialogue and sustainable investment from private sector businesses in the United States into GCF Task Force member jurisdictions in the Amazon Basin, and a commitment across regions of the GCF Task Force to promote sustainable trade and commerce.
The GCF Task Force has signed a

Letter of Intent

 with the Amazon Chamber, the first Amazonian hub in the U.S., providing a space for professionals to learn, interact, and invest in the Amazon region. Through this partnership, we look forward to collaboratively developing investment initiatives that will support subnational efforts to reduce deforestation and promote bioeconomy development in and across Amazonian states, regions, departments, and provinces.
Naiana Miranda of the Amazon Chamber hailed this new collaboration, noting: "For years, several of our Amazonian partners have requested more access and deeper connectivity to increased business opportunities in the United States. Cross sector engagement is pivotal to ensure inclusive, sustained shifts in the region toward an economy that works with the biodiversity of the forest and its residents. The GCF Task Force community represents a critical piece in this multi stakeholder tapestry. The Amazon Chamber will work with the private sector and governments to promote investment in the Amazon region, and to support the development of sustainable business models."
GCF Task Force members also signed a Memorandum of Understanding regarding increasing commerce for the bioeconomy between GCF Task Force members. Prepared in the framework of the Manaus Action Plan, signatories agreed to jointly explore opportunities and constraints for enhancing cooperation on trade and commerce amongst GCF Task Force members, specifically: to identify favorable conditions that should be explored to encourage investments, value addition, and job creation associated with the bioeconomy; explore mechanisms to encourage trade and exchange of bioeconomy products between GCF Task Force member states and provinces; explore funding mechanisms to increase national and international dialogue regarding measures to facilitate trade in bioeconomy products from tropical forest regions; and propose procedures for exchanging information between actors in the productive sectors linked to the bioeconomy, with a view to increasing trade flow.
In addition, the three Ecuadorian members of the GCF Task Force – Pastaza, Morona Santiago (newly joined), and Zamora-Chinchipe, made a joint announcement on impressive cross-jurisdictional conservation and Indigenous rights efforts underway in Ecuador.
These three provinces, with technical assistance from Nature and Culture International, announced progress on the Plataforma Amazonica in Ecuador, in which they are unifying their conservation efforts to set an example for the Amazon, effectively protecting and managing nearly 4.5 million hectares of continuous forest, the largest such system remaining in Ecuador. Home to Indigenous Nationalities of the Ecuadorian Amazon – Shuar, Achuar, Kichwa Waorani, Sápara, Andoa and Shiwiar – these areas are currently protected within the subnational conservation system (as Provincial ACUS – Conservation and Sustainable Use Areas) and cover an area larger than all the protected areas within the National System of Protected Areas of the Ecuadorian Amazon. The new progress includes the declaration of the Provincial Reserve of Morona Santiago, with more than 1.23 million ha for conservation and sustainable use. In addition, Nature and Culture has also been approved as the new GCF Task Force Coordinator for our Ecuadorian members!
In reflecting on this progress, Bruno Paladines, project coordinator for Nature and Culture International, said "We must give more support to subnational governments and native peoples, and that is what is happening after years of struggle."
The GCF Task Force was also thrilled to announce advancements in support of Indigenous Peoples and Local Communities and prepare the historic release of a GCF Task Force Gender Policy.
Two of the key panels for the Annual Meeting were organized by the Global Committee of Indigenous Peoples and Local Communities, including discussions on challenges and advancements within the GCF Task Force and within carbon accounting standards on increasing participation and partnerships. These panels also included a discussion of how the Global Committee is working with organizations such as the Climate and Land Use Alliance on developing funding proposals as first-of-their-kind financing that would directly support the efforts of the Global Committee and actions within GCF Task Force regions.
As part of these panels, Governor Rafael Antuni of Morona Santiago, shared the efforts underway in his province to partner directly with Indigenous nationalities and emphasized that "we must respect those who have conserved their territories and intact forests." He continued, noting that like the joining of the three rivers of the three GCF Task Force provinces of Ecuador, "united we are strong."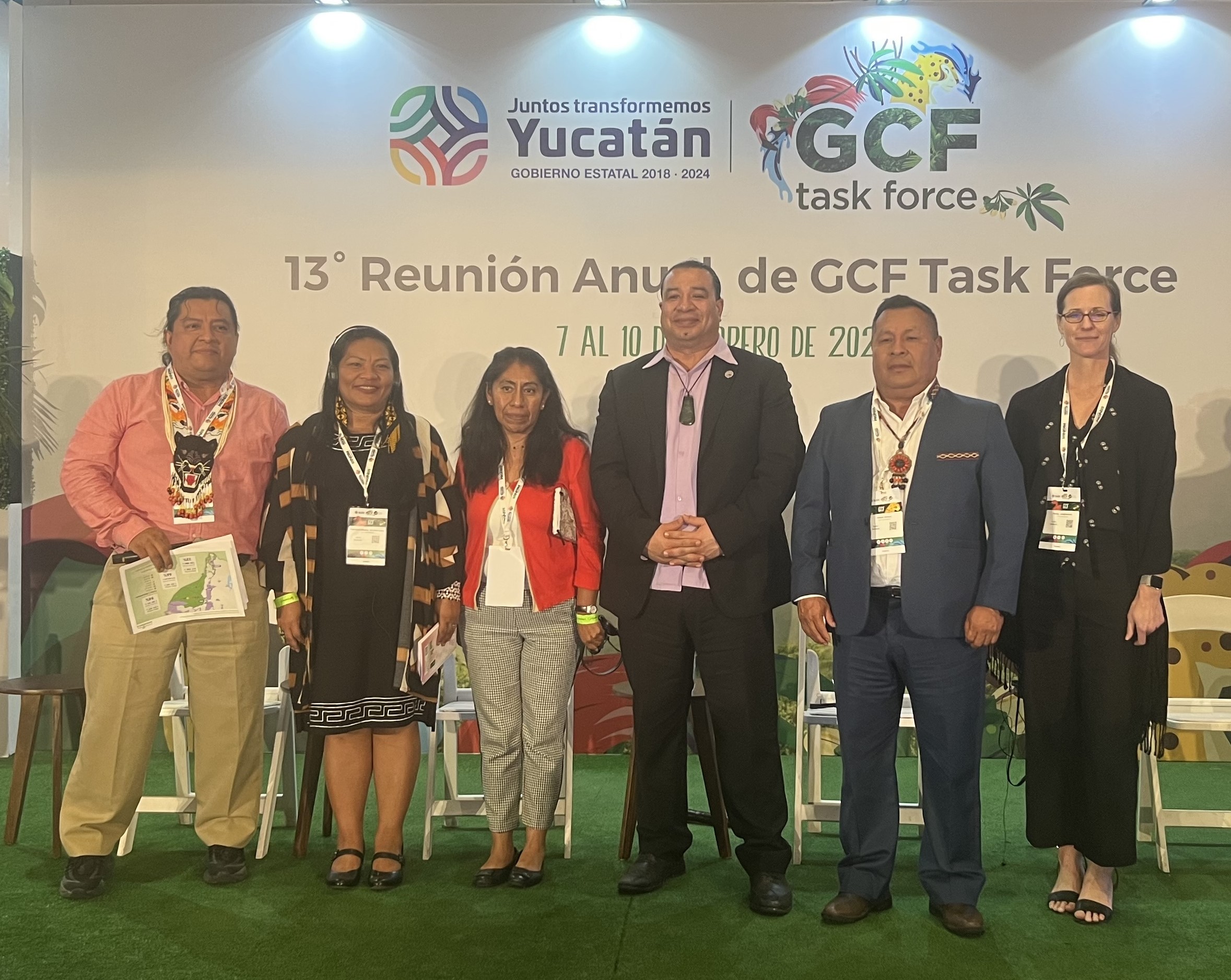 Finally, the GCF Task Force will publicly launch on Thursday, a historic Gender Policy for the GCF Task Force, entitled "Women for Forests and Climate." Through this policy, the GCF Task Force as a whole pledges to promote gender representation, advance gender equity throughout the GCF Task Force's network and work, and to establish an internal working group to advance this agenda. Most of our governors and vice-governors signed the agreement during the Governors' session on Tuesday, February 7, 2023. Once the policy is publicly announced on Thursday, our women leaders will invite Governors, Indigenous leaders, and all interested allies in the audience to add their support as well.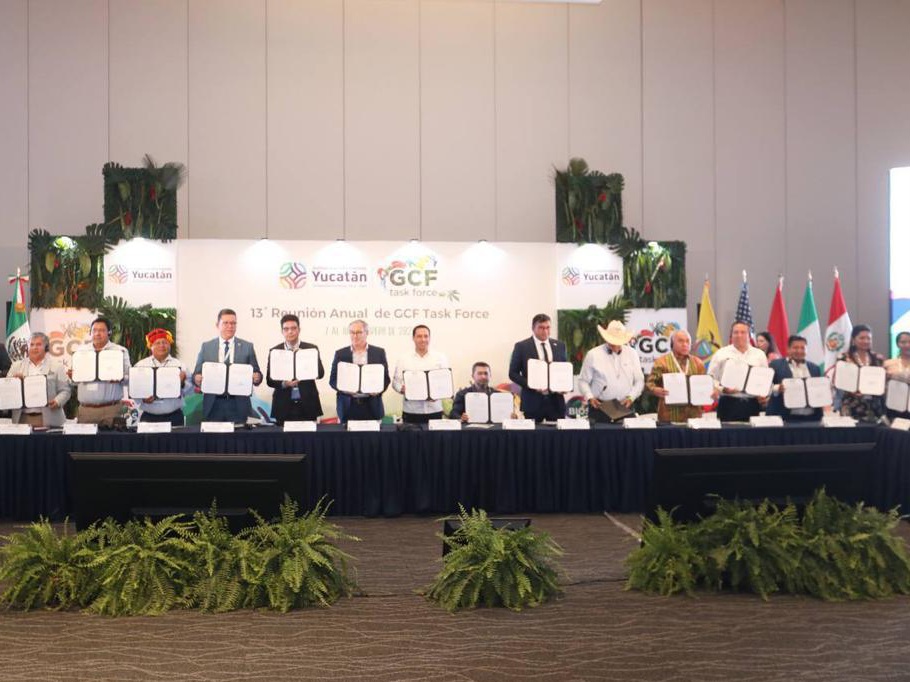 And last, but certainly not least, the GCF Task Force voted in its business meeting assembly on February 7 to welcome four new member jurisdictions – Pando, Santa Cruz, and Tarija (Bolivia), and Morona Santiago (Ecuador) – and one new observer jurisdiction – Manabi (Ecuador).
With this growth across key subnational jurisdictions in the Amazon Basin, the GCF Task Force seeks to further align and support its members in their efforts to reduce deforestation and tropical greenhouse gas emissions while advancing low-carbon economies and sustainable, forest-based development.
The Annual Meeting will continue through the rest of the week with substantive panels and much dialogue on these and other critical topics. A full agenda is available here: Yucatan, Mexico – Annual Meeting Agenda – GCF Task Force (gcftf.org).
Contacts:
William Boyd, Project Lead, boyd@law.ucla.edu
Jason Gray, Project Director, jason.gray@gcftaskforce.org
Colleen Scanlan Lyons, Project Director, scanlanl@colorado.edu
—-
The Governors' Climate and Forests (GCF) Task Force is a subnational collaboration of 43 states and provinces working to protect tropical forests, reduce emissions from deforestation and forest degradation, and promote realistic pathways to forest-maintaining rural development. We are the world's largest platform for states and provinces committed to this mission. We work to support and advance subnational leadership and policy innovation at all levels of government, from Governors to the civil servants doing the hard technical and policy-level work promoting forest conservation and low-emissions development. Our network connects the people with the processes that promote good environmental governance; green financing; securing territorial rights and the well-being of Indigenous Peoples and local communities; and advancing sustainable, low-emissions economic strategies that safeguard forests and the people who depend upon them. We promote partnerships with public and private sector stakeholders at multiple levels—from business and supply chain leaders to Indigenous Peoples and local communities. We work to establish and maintain pathways and strategies for effective subnational, national, and international action that reduces deforestation and enhances sustainable economic development and livelihood opportunities. The GCF Task Force is a project of the University of California Los Angeles, in partnership with the University of Colorado Boulder.